Divide and Rule - July 2019
So hot. Too hot to think.
This heatwave is made all the more potent by its sudden arrival: like someone just flicked a switch. Following on from February's weather in May, the oppressive heat is making me pass up on all garden jobs until it cools down again … perhaps in September?
Despite the inferno, I want to mention a task that we ought to be thinking about: dividing perennials.
Experts advise that we should lift and divide the rhizomes of irises in August. Well just the very thought of it makes me feel too hot and want to lie down. Perhaps September might be more approachable. But in any case, we should be planning ahead as irises are such a valuable plant in our gardening armoury and deserve to be propagated. We can't have too many of them.
The specialist iris nursery Iris Umbria at Niccone on the road towards Umbertide has more than 600 varieties. It is a magnificent sight in May when the irises are all in bloom. The plants are divided in August and they are ready for sale bare-root in September. Several of their varieties re-bloom in autumn - try to drop by in September and see what is flowering: they will be open then for collecting orders.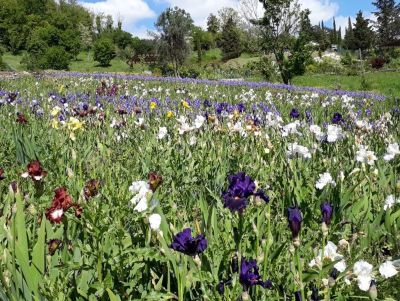 Tall Bearded Irises growing at Iris Umbria at Niccone
We live in a part of Italy which is famous for irises: not only as the symbol of Florence but also the 'giaggiolo' iris which is cultivated for its tuberous roots rather than flowers. These are used to make orris, the basis of perfumes. The ancient Santa Maria Novella perfumery in Florence has been using local irises to make perfumes since 1610, although the history goes all the way back to 1221. The richly decorated interior of the monastery building is well worth a visit on your way to the eponymous railway station next time you are there.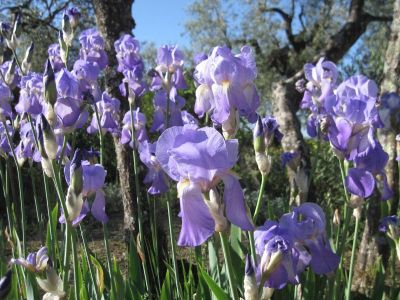 Giaggiolo or Florentine iris: its tuberous roots are grown for perfume
It is quite easy to divide Bearded Iris (Iris germanica), the type most of us have in our gardens. It is worth doing this every few years if the plants are getting congested and not flowering so abundantly. Don't leave it too late into winter because they will need time to re-establish before they enter winter dormancy.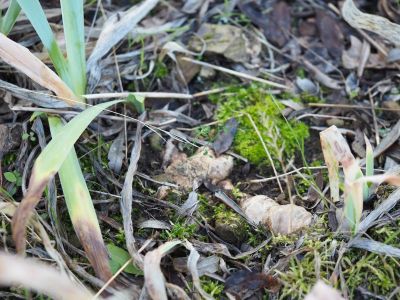 Clump of irises in need of division
Just dig up the whole plant; break into whole tubers each with some leaves attached; replant with the roots downwards making sure that the top of the tuber is above the soil. Place them about 30cm apart with the leaves outwards to make a 'fan' shape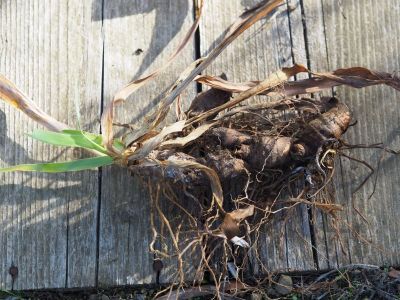 Divided iris tuber
Throw away old and withered tubers. Water in the replanted tubers regularly until new growth appears. Don't add fertiliser at planting time as it will cause sappy growth that may attract mould; better to wait until early spring.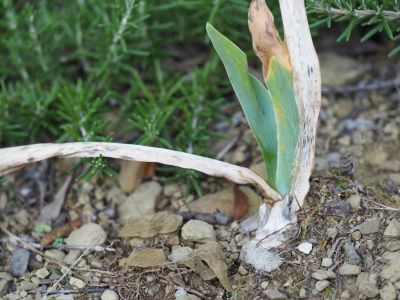 Newly planted tuber with new growth starting to appear
Hemerocallis (Day Lily), Agapanthus and Ornamental Grasses can also be divided in autumn and replanted using the same technique.
The photo at the top of this page shows a view of the International Iris competition grounds in Firenze
Many of these articles first appeared in the Castiglione del Lago monthly newsletter "Qua e là" edited by Priscilla Worsley
All text and photographs © Yvonne Barton unless stated otherwise